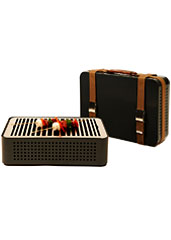 Hey, you made it to spring. Congrats.
Now to find a briefcase that also cooks ribs...
Give yourself a drumroll for
Mon Oncle
, a cryptically monikered steel briefcase that transforms into an outdoor grill, available online now.
Yes, it's an actual grill. Let's get that out of the way. But randomly/miraculously enough, it's disguised as a rectangular metal briefcase that looks like it could've belonged to some artsy '60s copywriter. There's a leather handle and everything.
When you open a normal briefcase, important papers fly everywhere and you chase after them like in the movies. When you open this briefcase, everyone gathers around and watches you cook meat over charcoal.
Also of great importance: it goes wherever a normal briefcase can. In your backseat on the way to beach-and-bratwurst-related endeavors. On the deck of small, seafaring vessels. On the ledge of a hot tub for when you want to eat hot dogs and be in a hot tub at the same time. Little bit gross, but do your thing.
And because choices are great, they've given you three shades of fire-resistant paint to work with.
All the colors of the fire-resistant rainbow.