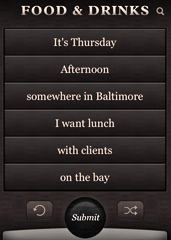 People like to think certain things about Baltimore.
That the Patapsco is filled with Natty Boh.
That blue crabs rain from the sky.
That schools are closed for Cal Ripken Jr.'s birthday.
But, really, we just think it's a good place to have a phone...
And on that phone:
The Next Move Baltimore
, the latest incarnation of UrbanDaddy's free, award-winning mobile app, now live and finding you the greatest food, drink and other excellence Charm City has to offer.
So the next time you're in Baltimore and hungry, thirsty or have a sudden urge to party like John Waters, you'll have this app. Just tell it the basics: where you are (like Hampden or Federal Hill), who you're with (like friends or your boss) and what you want (like cocktails or pit beef sandwiches). It'll give you directions. Show you pictures. Even make you a reservation (yes, OpenTable is built right in).
And that's pretty much it. Now just go about your life with the knowledge that you'll never not know the perfect place for steaks, steamed crabs or Berger cookies at 1am.
You didn't think we forgot about the Berger cookies...