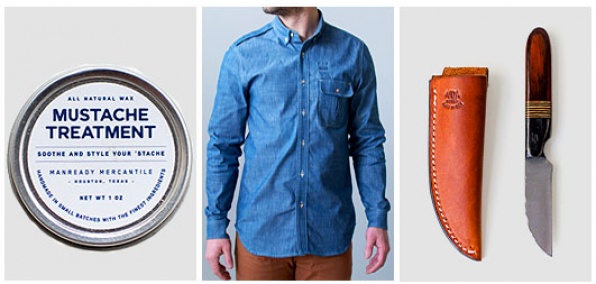 Hate to point this out... but your outfit seems to be unfinished.

Shirt's good. Shoes look nice. You remembered pants.

But somehow, you forgot the axe.

Pull yourself together at Orn Hansen, a SoCal-based general store selling American-made shirts, jeans, jackets and the occasional dangerous sharp object, online now.

It comes from the Long Beach store of US-crafted clothes and gear with the same name, started by a guy and girl who've just thoughtfully decided to offer you this digital version. So now you can redirect your Long Beach gas fund toward all the handsome California and US labels they've amassed on your computer screen.

Their stuff is perfect for your urban lumberjack seminar off Angeles Crest Highway. Or just to help you look nice at your next Thirsty Crow bourbon session. Visit the site. Look around. Then order some classic Railcar jeans, Chippewa wedge boots and a tasteful, plaid Norman Russell button-down. And maybe some Guinness soap and black-tea-and-tobacco aftershave... sure to entice your date, assuming your date's generally enticed by caffeine, beer and nicotine. (You do have a type.)

And sure, you could make up a reason to buy a striking Anza knife or Victor axe while you're at it.

You've bought crazier online.