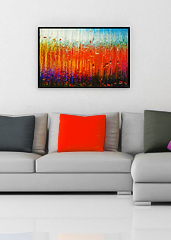 Art is a funny thing.
One person's masterpiece is another person's... conduit for streaming Spotify.
At least it is now.
Have a look-see at this thing:
Soundwall
, which turns artwork into a wireless speaker system, and is available now.
This bit of audio-visual synesthesia comes by way of Boulder, CO—where, for some reason, they just keep finding new ways to enjoy listening to Phish while staring at
Starry Night
.
Here's how this thing works. There's a computer and an amplifier. Those will hide behind the art, other than the power cord you'll need to keep 'em working. That computer is wi-fi enabled and will connect to your network (or existing wireless speaker system). Suddenly, your Gerhard Richter is singing "Happy."
Actually, when it comes to choosing the right art, you have some choices.
Browse their gallery.
They have some nice stuff, but let's just say Robert Mapplethorpe is not represented.
Order the speaker as a blank canvas.
Then invite Christopher Wool over for drinks. Tell him to bring his stencils.
Upload your own art.
As long as you have a high-resolution image, they can work with that.
Good thing you take all your selfies in high-res.