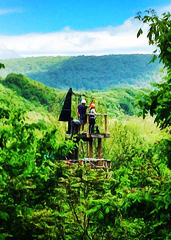 Odd things happen during full moons. Werewolves come out. People go insane. You start playing Pink Floyd incessantly.
And you take dates to West Virginia.
Well, barely into West Virginia. Harpers Ferry, to be precise, where you'll find the
Full
Moon Zipline Canopy Tour
, a three-hour trip through the trees that doesn't get started until sundown, available once per month starting Saturday.
Now, sure, this outfitter does this kind of thing in the daytime. But if you want to go full Spider-Man, you'll roll in here on a full-moon night with an adrenaline junkie of a date.
They'll shuttle you to the course, get you harnessed up and spend the next two to three hours guiding you through the treetop course (much of which overlooks the Potomac). What this will involve: climbing up to tree towers 65 feet off the ground, navigating rope bridges and rappelling. And maybe adjusting that harness.
But the focus here is on the eight ziplines, each between 200 and 800 feet long, which will have you stepping off platforms and into the dark void.
Yes, the guides will make sure you come out of the dark void.