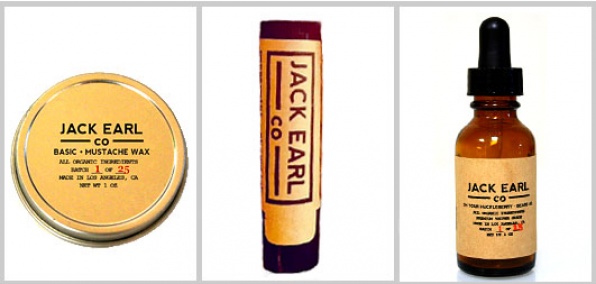 There're many reasons why someone would grow a beard.

Maybe they think it makes them look wise.

Maybe they're on the run from some federal marshals after being framed by a one-armed man.

Maybe they just enjoy things that smell like huckleberry and clove.

Catch a whiff of Jack Earl Company, a new California-based purveyor of finely tuned beard oils, aftershaves and other nature-scented things for your face, online now.

This is probably what Paul Bunyan asked for every year on his birthday. Little apothecary bottles with handwritten batch numbers that are filled with things capable of softening stubble. And preventing razor nicks. And styling mustaches. And soothing chapped lips. (Oh yeah, they make a mean peppermint lip balm.)

What you really should do is keep a few of these products in your medicine cabinet and dopp kit at all times. Then, when a situation arises that requires your beard to be smooth, shiny and subtly kissed with a touch of jojoba oil, you're set.

Those situations arise more often than you'd think.