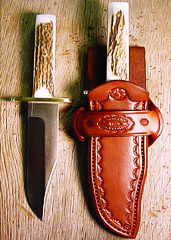 Things have been getting a little... unpredictable around here lately.
Winter storm Pax.
A 4.1 earthquake.
Justin Bieber seems hell-bent on moving to Atlanta.
Point is: you never know when you're going to need a good knife.
Sharpen up with
Tactical Knives and Sheaths
, a new crop of steel blades and their respective cases that are being tested by Navy SEALs and Green Berets as we speak, available for preorder now from a couple of steely-eyed shanksmiths in Newnan.
Meet Alan and Donna Soellner. Real rapscallions, these two. In the best ways possible, of course. They've got a site full of spurs and holsters and some random cowboy guy who walks onto the screen talking about "earlier times." Basically, it's Clint Eastwood in webstore form.
Also on it: hand-ground knives and thick sheaths both sharp and strong enough to see you through any harrowing outdoor escapades. They're waterproof. They're hard yet flexible. The handles come in colors like moss green and "coyote."
Right now, their new crop is being tested by those Air Force commandos and Marine Raider characters. Which... pedigree. Call and reserve yours now, though. Before you know it, it'll be spring and your knife and sheath will be ready.
And any "
Crocodile" Dundee
references that come along with them.