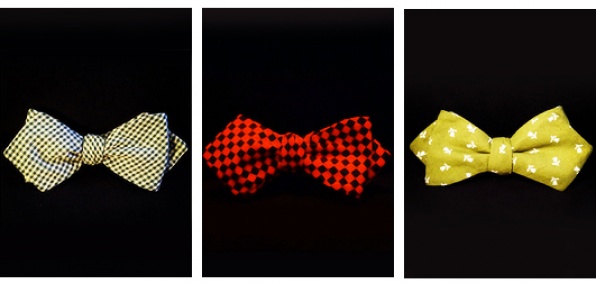 Bow ties make everything better.
Yes,
everything
.
Experiment a little bit with
Atlanta Beaus
, a new webstore that's stocked with locally handmade and customizable neck knots, online now.
We know. You're currently busy with the card writing and the chocolate buying and the learning how to pilot a hot-air balloon–ing. So we went ahead and plotted out a few occasions when you might wear one of these things.
Accepting an Academy Award.

These guys make a black-and-white-and-lattice number that would be perfect to pair with a tux. And an Oscar. Even one of those technical achievement Oscars they give out before the actual show.
At a tropical exchanging of nuptials.

You've just replied yes to a beach wedding. Because... beach wedding. Anyway, you'd do well to pick up their nautical-rope-striped bow tie for the occasion. Also, a gift. Perhaps a bow tie.
A late-night affair involving burlesque, cannons and a trampoline...

... or some similarly obscure event where no bow tie currently exists for the occasion. Just fill out a custom order form "
describing your vision
," and the designer will make it happen for you.
Now that's power.