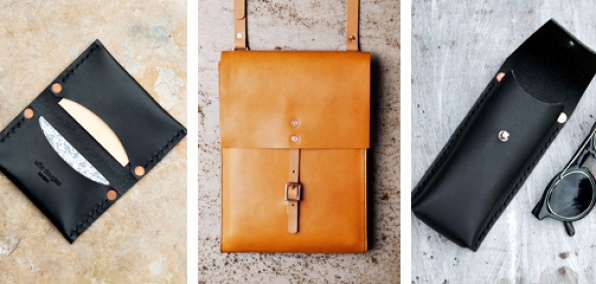 Roses are red.

Violets are blue.

Sugar is sweet.

And so... here's a bunch of essential leather from a couple of Brits.

Express your affection for Alfie Douglas, a team of English blokes that's making some fine belts, backpacks, billfolds, iPhone cases, camera straps and other things improved by the inclusion of vegetable-tanned leather, online now.

This stuff is like the wise old uncle of the leather family. Hard-nosed. Rugged. Saddle-stitched for sturdiness. (What, your uncle's not saddle-stitched?)

We could see you and the Alfie Two (their version of the classic, copper-rivet workbag) living happily ever after together. Or we could see you gifting one of their hand-buffed, raw-edged wallets and being treated like some sort of conquering hero.

Point is: it's pretty impossible to go wrong here. The tote. The bicycle saddlebag. The sunglasses case. Just go to the site, click on something, anything, and allow one to two weeks for delivery.

So, yeah, still gonna need flowers tonight.