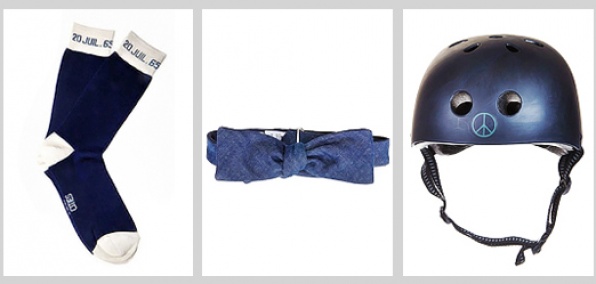 Forty dollars. It's not what it used to be. But it still can get you some cool stuff. Like eight five-dollar bills.

Or better yet, a pair of cufflinks. A leather-bound flask. Maybe a bike helmet.

From these guys: Men in Cities, an NYC-based accessories shop where everything is $40, online now.

Think of this as a dollar store. Only times 40. And on the Internet. And with fewer snow globes.

What you won't find here: suits for the office, parkas for tomorrow, velvet smoking jackets for Friday night (we assume you've got all those already). What you will find: black cufflinks to go with that suit, a cashmere beanie to go with that parka, and... well, the smoking jacket probably stands on its own.

The designer releases all of this stuff bunched into once-a-month collections, with names like "Open Road," "Black on Black" and "Comfort Addiction." And while you'll find the expected things like denim bow ties and leather passport covers, you'll also come across less anticipated items, like note cards lined in a bandana print and gloves modeled after boxers' hand wraps.

They've even got a nice-looking bike helmet, and adjustable-length jump ropes.

No, those aren't denim.