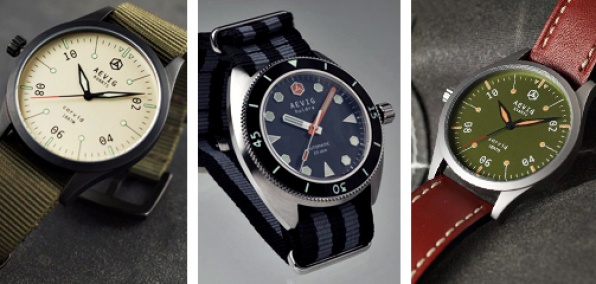 Lost time is never found again.
—Benjamin Franklin
Deep. Kind of sounds like old Ben was emphasizing the preciousness of what short time you have on this earth.

But he might've just meant you shouldn't let a damn good watch pass you by.

So find time for Aevig, a small-but-mighty new watchmaking firm from the Netherlands on a mission to make your wrist a better place, online now.

The name means "eternal" in Old Norse. Perhaps because they're crafting timeless, retro-yet-modern horological beauties you could wear today, a century from now or back to 1985, where you'd receive copious compliments from various McFlys.

Regardless, they've got two models available right now. The first is an all-steel '70s Submariner style good for critical meetings... and critical hot-tub meetings. (It's water-resistant up to 200 meters.) The second: a field-watch-looking number with a lighter, Bridge Too Far–ier NATO strap more suited for weekends and spring camping trips.

Oh, and speaking of movies, they're also into making up living-room-worthy prints of iconic watches from cinema and TV, like Bond's Rolex in Goldfinger... and the smartwatch from Knight Rider.

Hasselhoff shrine: complete.