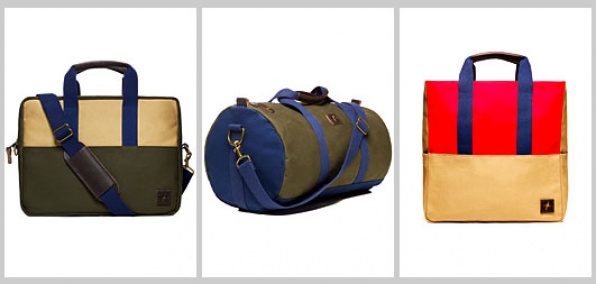 Let's evaluate your weekend-getaway checklist.

Phone, wallet, sunglasses, jerky and a change of clothes.

Yep, all the essentials. Now, for something to carry it all...

No, put down the grocery sack.

And pick up something from Jack + Mulligan, a new line of American-made bags adept at carrying things whilst making your shoulder look more dashing, online now.

It's a pretty simple operation here. Just a small shop in New York that's turning out three types of bags (duffel, briefcase and tote), plus a couple iPad sleeves and dopp kits. And each one with a decidedly patriotic color scheme that makes fine use of reds and blues. Handy if, say, you're anchoring the bobsled team in Sochi. Or you have a thing for primary colors.

So one day soon, you'll require a waterproof canvas bag. One with brown leather handles and antique brass hardware. And when that day comes, you'll be incredibly prepared. Because the duffel is great for traveling. The briefcase is great for work. And the dopp kit is... well, it's not a bowling bag, that's for sure.

And in the unfortunate event that you're traveling to a dry county, they've gone ahead and fashioned you a flask.

Hey, thanks.