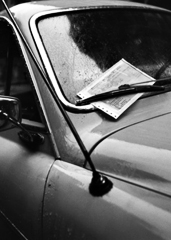 Here's the thing about those supposed self-parking cars:
They'll never be able to navigate the nuances of this city's ridiculous parking "system" for you.
Three-percent grade inclines. Indecipherable curb colors. Street-cleaning surprises almost daily.
In summary, the future is hopeless.
Unless...
Unless you live in a world where
Fixed
exists, and you do, and it's an iPhone app that'll fight your unjust parking tickets for you—it's in beta now.
Here's how you'll use it: sign up for the wait list now. Forget you ever did that. Then... try not to get an offensive parking ticket soon. Right. So when you get an offensive parking ticket soon, and the site's a real site and you're admitted, you'll file your grievance with Fixed.
There's no street-cleaning sign within 100 feet. The red curb is more like burnt sienna. Whatever you think is the reason your ticket's a joke, take pictures. Send them to Fixed along with your grievance. And then... forget you ever did that.
See, they've got a bunch of people sitting around just waiting to fight the man. They know all the loopholes and have time to deal with the court. If they get your ticket overturned, you pay 'em 25% of the ticket cost. Great. If not, you owe them nothing. Just pay your ticket. You tried.
Now if only it worked for referees...