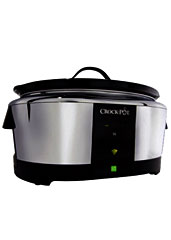 You've probably heard...
Kraft is facing a Velveeta shortage.
If we were you, we'd hoard a bunch of the stuff and make some farewell queso in a crazy new crock-pot.
Or we'd riot, loot and maim.
Keep the peace with the
Crock-Pot WeMo Slow Cooker
, a wi-fi-enabled crock-pot that'll have you warming queso from anywhere you damn well please, available this spring.
Chalk this up as the most important thing to come out of CES. Well, in the wi-fi slow-cooker category, at least. Because what looks like an unassuming black-and-chrome crock-pot will have you adjusting temperatures, setting cook times and fielding reminders from the bulk-cheese aisle at Whole Foods.
Once this thing's released to the world, you'll get to work filling it with hunks of pot roast, blocks of cheese or anything else you'd like to slowly cook and/or melt over a period of six to eight hours.
But then, just go about your day. Run some errands. Grab a beer. Meanwhile, use the corresponding app to tweak time and temperature settings and check cook progress to ensure that things are perfect when you arrive back home.
Finally, a crock-pot that just
gets
you.