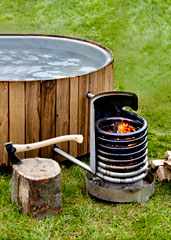 We owe a real debt of gratitude to Dutch ingenuity.
Not because of the submarine, the electrocardiogram or even the world's first gin.
But for something far more groundbreaking...
... slash hot-tub-y.
Shed an appropriate amount of clothing for the
Dutchtub Wood
, an important advancement in the wood-fired personal-hot-tub sciences, available now.
Yep, it's a hot tub. But it's unlike anything you've frequented at the spa or during particularly festive après-ski activities. Partly because it's constructed entirely of wood. But also because it's powered entirely by wood.
So once this four-person aquatic recreational unit arrives at your house, you'll fill it with water and set about chopping some lumber for fuel. Place that freshly hacked wood into the tub's attached spiral coil stove, and set fire to it. The fire heats the water. The water will heat you. And so goes the circle of Dutch-hot-tub-related life.
Then, by the time you've changed into something more suitable (and waited about an hour), you've got a steamy 100-degree reservoir ready to accommodate you and three friends. Or you and three "friends." Or you and a Dallas Cowboys defensive tackle.
Maybe don't mention last Sunday.