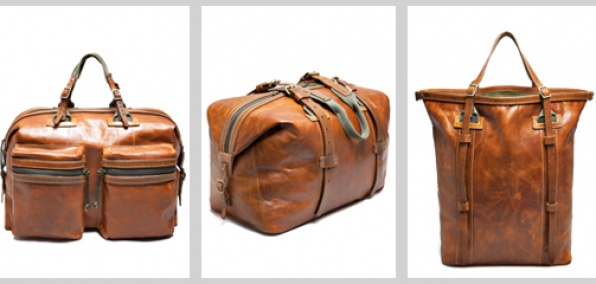 Quick, pack a bag.

We don't have time to explain.

Okay, we'll explain a little.

Your bag should be leather, durable and impossibly attractive.

So, one of these.

Make room in the overhead for Stephen Kenn, an LA-based operation that's crafting handsome leather bags for essential weekend getaways, online now.

It's an age-old story. Canadian guy moves to LA, makes sofas and then sets his sights on conquering the leather-bags market. (Well, it's a story, at least.) And that's where this stuff comes in. This stuff being vegetable-tanned leather totes, duffels and dopp kits, all stained to a nice cognac brown. By Mr. Kenn, not you.

One day soon, something will necessitate the use of a dapper bag. Something like a holiday weekend. In that case, the triple-sectioned overnighter would come in handy. As would the cotton-webbed backpack. And the olive-green iPad slipcase.

And in the completely unrelated event that you need a new place to sit, they've gone ahead and made you a few couches and chairs. Fashioned from things like steel-welded frames and repurposed WWII military fabric.

The things that fabric has seen...