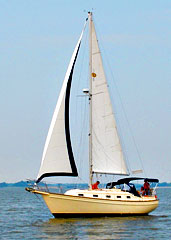 Hmm. Three-day weekend coming up. Enticing.
You should probably spend it on a boat somewhere. Or what the hell: four days, during which you don't ever have to leave the boat.
Here's
Live-Aboard Sailing Lessons
at the Maryland School of Sailing & Seamanship, where they put you up on a 32-foot sailing yacht for four days, and teach you to sail in the process. They're taking reservations now for fall sessions.
This is less margarita-soaked pleasure cruise with some Christopher Cross on the stereo, and more like Coast Guard basic training.
You'll want to show up the night before the course starts, claim a bed below deck, maybe try on your Gilligan hat in the mirror.
Then, for the next four days, you're on the water for hours on end, doing all the tacking, jibing and rigging you can handle. You'll also cover docking, charting and—deep breath—man-overboard drills.
Every night, you'll dock and make your way into town for dinner (and probably that margarita) before coming back and bedding down again on the boat.
If you've got seven days, tack on the intermediate course, and after the week, you'll be licensed to skipper a sailboat in daylight hours.
Nighttime is just for smugglers anyway.