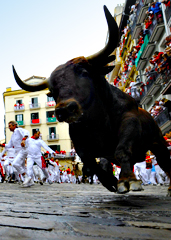 Been a big summer already. Only one item remains on your to-do list: defy death.
Well, let's get on that. Here comes
The Great Bull Run
, a Pamplona-like event that has nothing to do with the Civil War and everything to do with avoiding charging male bovines, taking registrations now for August 24.
Now, to be sure, this isn't for everyone. But if it's for you, read on as we mine some bull-related data.
Distance from Washington to Pamplona, Spain:
3,818 miles

Distance from Washington to Petersburg, Virginia, where the bulls are running:
131 miles

Length of the drag strip on which you'll run with them:
0.25 miles

Number of humans running in each heat:
1,000

Number of bulls:
24, in three waves of eight

Horns on each bull:
2

Times you'll want to come in contact with those horns:
0

Speed at which the bulls run:
15 miles per hour

Speed at which you run:
not that fast

Ways to get out of the way:
3 (dodge them, duck into a nook along the fence or just climb the fence)

Beers they'll give you when it's over:
1

Beers they
should
give you when it's over:
lots