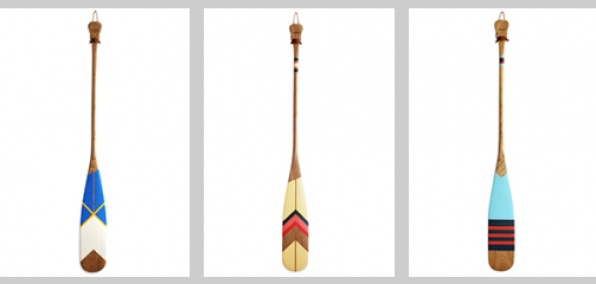 Picture a paddle.

Right... a canoe paddle.

Great. Now, ask yourself if you feel:

A) Like going canoeing.
B) Mildly aroused.
C) Inspired to redecorate your den like a woodsy cabin on Lake Winnipesaukee.
D) None of the above.

... We see you've selected D.

That must mean you haven't seen Norquay, a new Canadian assortment of hand-carved, hand-painted canoe paddles that are about to do all sorts of positive things for your walls/ability to navigate rivers, online now.

In terms of Quebecois canoe enthusiasts supporting their stream-cruising and lake-basking habits by fashioning hand-painted cherrywood paddles... these guys are definitely in the top 1%. And in terms of mountable things capable of making your place resemble Bob Redford's summer home: yep, these fit that description.

So by all means, explore their website. It's pretty much a paddle paradise. They've got a dozen models. Gray-and-yellow ones. Forest-green-and-light-blue ones. Plus, a 57-inch white and red-crossed one called "Heidi Ho," which... total conversation piece right there.

Oh, and since they're all fully varnished, feel free to take them out on the water should you ever feel inclined to do some actual canoeing.

Fun fact: they were actually invented for that.