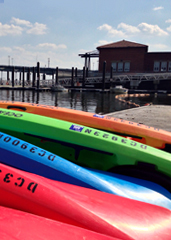 The Nationals this weekend: simply atrocious.
But it's okay. We're not here to talk about futile hitting or disappearing playoff hopes.
Just a leisurely paddle past the stadium.
Ahoy, here's the aptly named
Ballpark Boathouse
, a new outfit just a long fly ball from the first-base gate, now dispensing kayaks on the Anacostia River on Saturdays and Sundays.
Consider this your new maritime pregame ritual. A couple hours before the first pitch, you'll wander down 1st Street, past the stadium, until you come to a small park called Diamond Teague.
There you'll see it: not really a boathouse, just a couple gangplanks and a pier arrayed with single and double kayaks in all kinds of colors.
Ask for one. They'll throw in a paddle, some tips to get you going and a life jacket (which you hopefully won't need).
Then it's off. Head west toward Buzzard Point or Hains Point, or east past the Navy Yard and (if you're feeling bold) RFK Stadium.
You'll be in no danger from the other team's home runs.
They fly in the other direction.