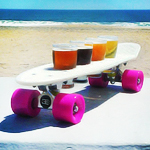 HEADING: SOUTHEAST
Beer Skateboards in Ocean City
Why You're There: Defending your kiteboarding championship. Or just going to the beach.
What You'll Find: Shorebilly Brewing, a tiny new spot right off the boardwalk, with a psychedelic bus sticking out of the front and bar stools made from old kegs.
What You'll Drink: A flight of four beers served on an old skateboard.