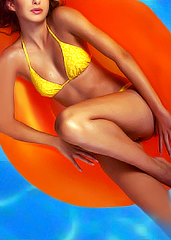 If you're going to partake in a summer sport, you have some demands.
1) You must be laid out horizontally in an inner tube.
2) See #1.
After carefully reviewing your demands, we have something for you...
It's
Inner Tube Water Polo
, a new local league that takes the concept of polo, adds the wetness of water polo and allows you to play the whole damn thing from the comfort of an inner tube.
Hit the scrimmage tonight at Grant Park Pool. Because your season opener is July 17.
If you haven't already canceled your plans for this evening, rethink that. Because this is a good chance to know what you're getting into before the seven-week regular season starts.
Just show up in a bathing suit around twilight. You'll be assigned to a temporary seven-person team (distinguished by yellow vs. blue tubes). There's a quick overview of the rules. You'll man your tube. And when you hear a whistle, start kicking toward the ball like you're all pumped to be playing inner tube water polo.
Two 20-minute halves and a five-minute intermission later, the team with the most points wins. Dry off. Shake hands. Go to a bar.
Free agents aren't going to recruit themselves.