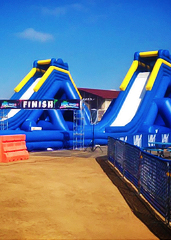 You've got nothing against getting all extreme on a weekend here and there, up to and including racing through mud pits, barbed wire and walls of flame.
And yet, well, we're talking about a summer weekend. So maybe something a little less Parris Island and a little more... prime-time game show is in order. Yeah, with waterslides and moon bounces.
So might want to sign up for the
ROC Race
(which stands for Ridiculous Obstacle Challenge), a not-very-Spartan-at-all 5K taking registrations now to run on the RFK Stadium grounds on August 10.
This is somewhat akin to
Wipeout
, without the TV cameras rolling. And, yeah, it isn't quite up there with Theismann-to-Monk in the annals of great RFK Stadium sporting moments.
But still, you get to play this time. You'll do all the regular race stuff—pick up your race packet, bib, T-shirt. Then it's time to get to the... irregular stuff. Like highway barriers, tires and a lot of inflatable things like wrecking balls, moon bounces and waterslides.
And when you've conquered your last rope swing, it's on to live music and beer gardens.
Which sounds a bit more like your average RFK experience.