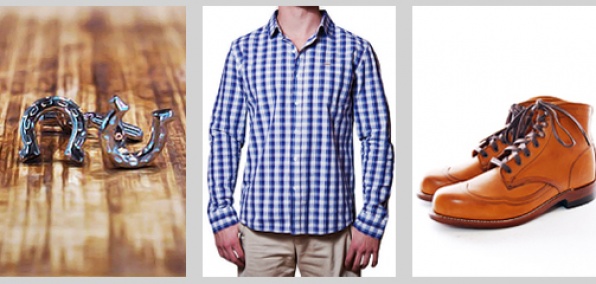 It could happen at any time.

You're sitting in your office, reading the paper and enjoying a Special K Flatbread Breakfast Sandwich.

Your secretary chimes in over the intercom to tell you that Mr. Schnur has flown in unannounced to discuss the status of the Zurich deal.

The problem: it's casual Tuesday.

The solution: DASH by Boutiika, a new same-day service that's essentially like pizza delivery for new shirts, shoes, cufflinks, ties and any other wearable things you may find yourself requiring in a pinch.

It's available now. And here's how it may one day save your life...

You've got unexpected company.
Maybe it's that damn Mr. Schnur. Maybe it's someone entirely less fictional. Either way, hop online and browse through anything from Daniel Sudar cufflinks to wool ties from Beckett & Robb and click "deliver now." Then... they'll do exactly that.

You're invited on a last-minute camping trip.
Nice. Should be fun. Unless you don't have boots. In which case... hey, look: someone just delivered you some Wolverine boots from Brooklyn Circus. Beats going to Brooklyn Circus and picking up some Wolverine boots.

You're in the giving mood.
They've got togs from Cow Hollow's Chloe Rose. Vanessa Gade necklaces from Park and Pond. Stuff like that. Hand-delivered gifts and whatnot.

Although pizza would be a nice touch, too.