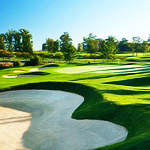 RTJ II Course at Lansdowne Resort
Degree of Difficulty: One sand wedge.
The Approach: First, find the Lansdowne Office Park. Park the car. Across the street: you'll see the tee box of the monstrous 580-yard, par-5 11th hole on the resort's top course. Run to it.
Hazard: Stray golf shots from corporate outings.