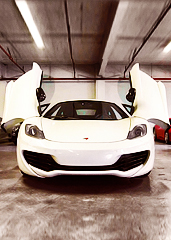 You don't have much in common with Magnum, P.I. You don't wear Hawaiian shirts. You're indifferent toward the Detroit Tigers. And your mustache puts his to shame.
But you can drive a car like his. Even if it's just for a few laps.
Introducing
The
Dream Car Sprint
, taking reservations now to get you behind the wheel of a Ferrari or a Lamborghini in two Maryland towns this summer.
This is from a New York outfit called Gotham Dream Cars. But now they're bringing the cars to you. Well, to Aberdeen and Waldorf.
So you'll meet them there (you should probably bring Dad, too). They'll have a course all laid out, about a mile long. They'll give you a briefing. You'll ask questions like "What does this button do?"
Then it's on to the course, where you'll have the 500-horsepower engines, hand-sewn leather seats and tiptronic shifting paddles at your disposal.
If that's not enough wheel time for you, there's always New Jersey. A couple times a year, they
bring six of their top exotic cars
—including Aston Martins and Bentleys—to a location in Jersey and let you spend hours taking them all on the streets.
Yeah, bring a Springsteen CD.