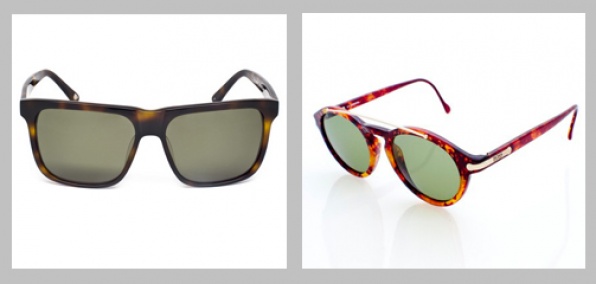 The fight over your face has begun. Two esteemed giants of eyewear—Silver Lining Opticians and Kajal London—have taken their efforts online. To ensure you look your best this summer (and to save you a few minutes), we've broken them down, tale-of-the-tape-style...

Pedigree
Silver Lining: An eyewear historian and a certified optician who've long provided rare Japanese frames in SoHo—but now, they're making their own line.
Kajal: A Londoner with a telepathic insight into what your face needs—especially if it needs one-of-a-kind vintage shades from the 1970s.
The Takeaway: Prescription-wise, Silver Lining wins with science. But if you're already at 20/20, it's hard to turn down a British accent.

Style
Silver Lining: Simple, but with an unspoken edge. The sort of things Clark Kent wears to the Hamptons.
Kajal: A huge spectrum, from classic John Lennon–style frames to ski-goggle-ish Carrera aviators.
The Takeaway: "One of a kind" is a hard card to beat. Lucky for you, they're both holding that card.

Selection
Silver Lining: Seven frames. Five color options. Sunglasses or opticals. You build it, they make it.
Kajal: Over 108 pairs spanning everything from Alitalia to Vogart—and that's just the sunglasses.
The Takeaway: Tie ball game. Custom and vintage are just too different. Plus, there's no reason you can't live with both...