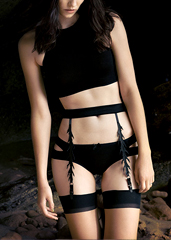 And just when you thought Tuesdays couldn't get any sexier...
Here comes
Hopeless Lingerie
, a one-woman lingerie-making operation of fiercely lustful proportions, online now (and ruining any chance you had today of focusing on things not involving the words "sheer," "harness" and/or "bralette").
Again, you have one woman to thank here. Her name is Gabrielle Adamidis. She's from Melbourne. And she's about to make you say, "Honestly, they're not
just
open-derriere knickers... they're art." Because that's exactly what this stuff is: very wearable pieces of art that leave very little to the imagination.
Before diving in, brush up on your lingerie vocab. You've got camisoles—you know those. Knickers, which are what Aussies call... knickers. And, well, that should be enough. Now, just click around, admire the female form and maybe pick up a satin harness in case you know someone (or would like to know someone) who appreciates getting harnessed by satin.
Oh, also: Gabrielle says she'll make anything custom. So say you're feeling extra patriotic this July 4—just email her all your thoughts and she'll come up with something perfect for the occasion.
Well, maybe not
all
your thoughts.