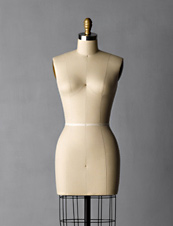 It might be time to throw caution to the wind…
And
finally
start up that revolutionary line of aerodynamic golf pants you've been dreaming about. (Everybody's got a clothing line nowadays.) Only one problem—you know nothing about aerodynamics, or golf pants.
But if Justin Timberlake and Pete Wentz can do clothes, you can do clothes. Here to help: the new website
Launch Your Line
.
Think of it like the Missed Connections section of Craigslist, but for budding entrepreneurs who might otherwise never have met that special someone who could design their logo, formulate their business plan or, you know, actually manufacture their signature line, product or cologne. (Smells like sage, scotch and hope.)
Create a free account, and you'll be asked a series of questions to help you find the artists, business-plan geniuses and manufacturers you'll need to get off the ground and start moving merchandise.
Of course, these types of networking sites all depend on, well, the network, so the site's founders have negotiated deals with some choice purveyors, and the hope is that the cream of the entrepreneurial crop will all log in and collide in a glittering shower of hemp tuxedos, designer beer helmets and leggings that double as scarves.
Right behind you, Timberlake.