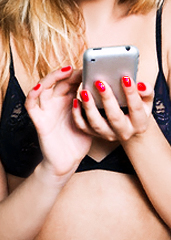 You don't like to be tied down.
Hence, you may have heard of a Facebook app that goes by that very subtle name of Bang With Friends.
Which kind of tied you down... well, at least to Facebook.
So in another great defeat of irony, we introduce the
Bang With Friends Mobile App
, the same great—we mean terrible, terrible—casual hookup application, but more mobile, available now.
Now, we're not suggesting that you currently use this app. You probably don't. In fact, you probably wouldn't even think of using it. Unless you do. So a quick refresher:
Say you have friends. And those friends are on Facebook. It's a safe bet that you'd like to know perhaps one or two or several of those friends, shall we say, better. That's where this comes in.
You log on and anonymously select the friends you're interested in some one-on-one time with ("bang" is their term, not ours). Your friends with the app do the same. Also anonymously. But if you happen to select each other, you'll each receive a note telling you that you're both disgusting, reprehensible pigs. (No, no. Actually, it may use words like "bumping" and "uglies.") You take it from there.
And, bonus: the mobile app has the new option that allows you to "hang" with friends.
"Banging" can be such a commitment.