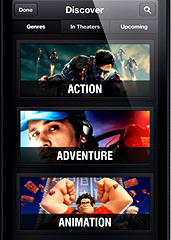 In a world where nothing is as it seems...
One person must stand up against the tyranny of an oppressive system. Fight for what's right. And make sure not to miss seeing that one movie that looked pretty good...
Pull back the red curtain for
TodoMovies
, a new iPhone app that's like a personal assistant assigned specifically to handle your film-going, now conveniently available for the start of blockbuster season.
This time of year, movie-watching becomes sport. You've got 1,862 movies you need to catch before September. The problem is remembering where and when to see them all. So get this app. Go crazy on making a must-see list inside it. And then... relax. You're covered from now on.
Anytime a noted movie is released, you'll get a notice. You can look up reviews from Rotten Tomatoes. You'll even get a message reminding you that you already promised to see this film with your friend at work—so... invite her.
And the app will let you know whether or not there are any bonus scenes after the credits, thus ensuring you don't miss anything.
It's probably safe to assume
Iron Man 3
ends with shawarma.