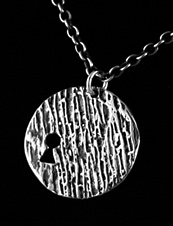 Unless you consider Flavor Flav and Mr. T to be fashion icons, man-jewels are treacherous territory. So you could be forgiven for historically steering clear.
But the new collection from
Pennyroyal Silver
—from a music-industry vet who's inspired by the rock, man—should change your mind.
The limited-edition
Troubadour
is the first in a collection of hand-crafted pieces molded from a shrine of rock-and-roll history—in this case an impression from an original wood carving on the wall of one of LA's most famed live rock clubs, which hosted Neil Young's first solo show and Janis Joplin's last night of debauchery. (You probably won't find gum or vodka-bottle shards in it. Probably.) Up next might be
Roxy
, or
CBGB
, or…well, craftsman Tim Foster is just going where the music takes him.
He names many of his rough, purposely imperfect pieces after classic anthems, so you can probably guess what's written on "All You Need Is." But he'll also create custom pieces—for you or her—based on a signature, a picture on your iPhone from last night's show, or her secret tattoo. (Jimmy Page got a ZOSO necklace last week, based on the fourth album's symbol.) Whatever you choose, it'll arrive with a guitar pick.
 Which could maybe be turned into a necklace…