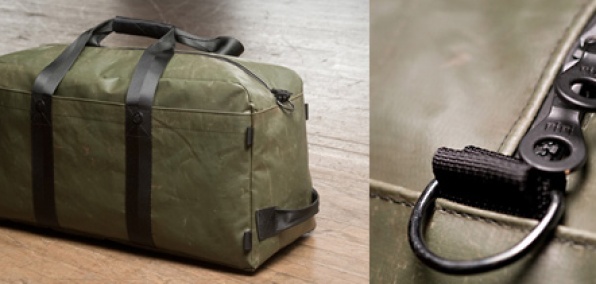 A beautiful day in February tends to remind you that you still have a few weeks until the next beautiful day.
 
Unless you pack up and get the hell out of Dodge.
 
Here to help you through whatever adventure you could possibly cook up is Killspencer, a brand-new line of indestructible duffels and weekender bags fashioned from vintage military tarps—and tough enough for anything from a Catskills camping trip to an armed assault of East Hampton.

Stitched together from Korean War-era truck covers, Killspencer's Historical Reserve Collection has been through tropical storms, infantry movements and everything short of mortar fire, so it's safe to say your electric-blue rubber flip-flops will be just fine.
 
Since all the materials are repurposed, no two pieces will be the same, meaning you'll have a one-of-a-kind, waterproof, indestructible bag to make sure your copy of For Whom the Bell Tolls doesn't get wet on your way into the jungle (or when you spill a mini bottle of Jack Daniel's on it in the heat of battle).

If you want something a little more modern, there's the Classic Collection, with newer performance materials, colors other than green (black, white) and the same waterproofing and toughness.

But come on, man up.