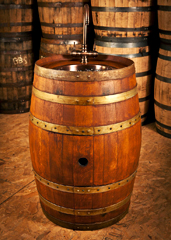 Good afternoon.
We noticed your coffee table's looking a little—how do we say this—not like a whiskey barrel.
Let's take care of that right now.
Observe
Heritage Handcrafted
, a bunch of handsome furniture and home stuff that used to make whiskey and wine, online now.
Maybe you've been wanting a more bucolic vibe at your place. Maybe you're looking for an excuse to use the word "bilge." Maybe you've just been standing for hours. Whatever it is, here's help in the form of Adirondack chairs, coffee tables and benches made from charred-oak whiskey and vino casks. 
The operation was started by a guy who just
looks
like he'd make furniture out of barrels. Name's James. Has a lot of vice clamps and saws. One day, James found an old whiskey barrel lying around, pried it open, thought it'd be cool to try making something out of it, and did. That brings us up to date.
As for you, we see you wanting the sink. Yeah, definitely the sink. It's made from a full red-wine barrel with a copper faucet and basin installed in the top. Take a look on the site and email James
here
about buying the thing. If you want to convert the faucet into a whiskey tap, that's your business.
It's the circle of life, and it rules us all.