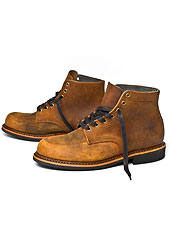 Hypothetical situation: you encounter some inclement weather.
Maybe you go to Mammoth. Maybe an errant drop of mineral water falls on your knuckle and it feels like rain. Maybe you're an extra on
Pirates of the Caribbean 12
.
Anyway, boots. You need boots.
Stride toward the rugged wonder of
Broken Homme
, a new line of LA-based footwear that'll get you through any season on any coast—available now at Douglas Fir, American Rag and online.
So yeah, these shoes are sturdy. But not too sturdy. And nice. But not too nice. Take the brown leather Davis boots—they look and feel all worn-in like your favorite pair of jeans. Except they're shoes. And you could wear them while you build a wet bar in your backyard. And you could keep wearing them when you give up on that and go out to an actual bar instead.
Also, two other things you should know:
1) It's not just boots. You could also go for some military-green oxfords, or some oxblood oxfords, or... a belt. It's gray buffalo leather. It goes great with oxblood oxfords.
2) We're only talking about five styles here (plus that belt), and only a few dozen of each style were made. So you're not likely to run into your shoe twin anytime soon. Which is good.
This town's not big enough for the both of you.