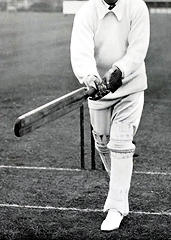 Spring training is upon us.
Bowlers are honing their skills. Batsmen are defending the wicket and running up and down the crease to avoid dismissal.
Right, we meant the other kind of spring training. For the other kind of baseball. The one that goes down in a Sterling industrial park.
So with that, welcome to the
Wicket Club
, a 10,000-square-foot home of all things cricket, accepting members and walk-ins now.
On the one hand, if you want to stand in the cages and take your whacks at 95-mile-per-hour pitches, this is a lot closer than Viera, Florida. On the other hand, the ball will bounce on its way to you. Oh, and the rules are totally different.
It's okay. The cricketing diehards who set up shop here are happy to walk you through the basics, get you suited up, then put you in one of their three lanes for batting practice, in which a machine will toss yorkers, bouncers and slow spinners at you. They'll even tell you what the hell those things are. 
Once you get the basics down, you'll be glad to know you can find a game here on their indoor, artificial-turf court, maybe sign up for a tournament or two, and even take in a big international match in their party room.
In case you don't have the Cricket Channel.