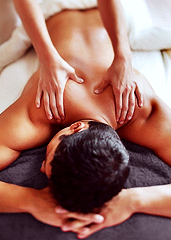 There are those clubs that make you wear funny-looking hats and drive tiny cars in parades.
Then there are those clubs that give you massages and a chauffeur-driven BMW. Those are the clubs for you.
Like
Primed
, a new members-only, subscription-based spa, soft-launching on Friday.
Imagine a private, French/rustic-looking clubhouse at the end of a Georgetown alley. One that deals only in massages, facials and the like. That's this place.
It's pretty simple. You'll apply for membership. Then you'll make standing appointments with the spa's concierge—maybe a massage every couple weeks, a facial every month, waxing... well, you don't need waxing.
Then, whenever your appointed time arrives, you'll show up. They'll have lunch waiting if you want it. They'll give you bottomless champagne. And they'll get you in and out in about 30 minutes.
If you have a few extra knots to work out, you can book for longer and add in a nap. Or add on a one-off appointment, like right after your red-eye flight lands from Vegas.
But say it's your clients who are landing from the West Coast, and you'll be damned if you let them see you with less-than-perfect hands. Summon Primed's mobile service for a little manicurist's touch-up in your office, after which their BMW 7 Series will whisk you to your meeting.
Healthy cuticles are for closers.