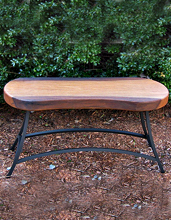 The
USS Constitution
.
A floating slice of American history.
Majestic. Intimidating. Cannon-filled.
And man, oh, man, does her wood make for a splendid coffee table.
Enforce strict mandatory coaster use for
Weathered Benches
, a line of gorgeous, one-of-a-kind furniture that employs salvaged wood from the
USS Constitution
, available while supplies last.
Normally, if you wanted to get your hands on anything made from a historic retired war vessel, you'd have to go peel off existing timbers from her original hull. But since that's really hard (and probably considered a form of treason), you'll opt for this route.
The good news: every item in this collection is constructed from massive planks of dense, live oak used to build the
Constitution
and other tall ships in the 1800s. Preserved by the cold Atlantic waters and the mud of the Charlestown Navy Yard, they're now being repurposed by a local craftsman (who we picture to be a cross between Noah and carpenter-days Harrison Ford).
So if you want a finished, one-of-a-kind coffee table, he's got it.
Wood benches
, he's got those, too. He's even got candleholders.
And if there's something specific you want for your Berkshires cabin, you can request a custom job.
No, he doesn't have enough wood for your own warship.