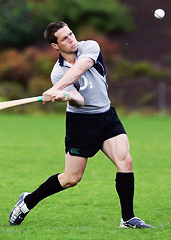 Federer has yet to answer your challenge. Your offer to lead a band of replacement hockey players was spurned by the NHL.
Yes, you may have to give up on professional athletics. But amateur sports...
obscure
amateur sports at that... there's your ticket to glory.
Getting to know a local band of Irish sports fanatics is a good place to start.
They're called the
DC Irish Sports League
(naturally), and they're taking sign-ups for a February hurling league inside a giant Maryland field house.
Sure, this sounds like curling. But there's no ice and definitely no brooms. Just some oddly shaped sticks, a huge expanse of astroturf and more than a dozen players per side. The object: get the ball (and its nearly unpronounceable Gaelic name) into or over the goal.
Of course, it's a bit more involved than that, but players from the DC and Baltimore teams will get you started (and loan you some gear).
By the time spring rolls around, you'll have plenty of added credibility for St. Patrick's Day. Also: you'll be ready for the outdoor leagues and pickup games on the Mall during warmer weather.
Speaking of which, that's when you can also try your hand at Gaelic football, which is like a volleyball/soccer hybrid, but with tackling.
Yes, there'll be beer afterward.
Note:
<a href="https://www.facebook.com/DCISL" target="_blank">DC Irish Sports League</a>, indoor league Fridays during February at <a href="http://www.athleticperformanceinc.com" target="_blank">Athletic Performance Inc.</a>, 9pm, $15 per week, <a href="mailto:Play@dcisl.org">email here</a>