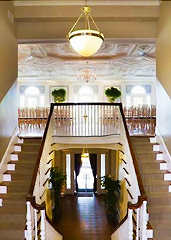 We hate to say it, but it's too late for you to host a ball.
Well, an inaugural ball, anyway. As for a Grover Cleveland–themed ball for Presidents' Day, or a vernal equinox ball, that's still up to you.
And we know some people who can help you find a venue—maybe a private rooftop, maybe an after-hours yoga studio.
It's called
Eventup
, it's an online marketplace for event spaces, and it goes live in DC tomorrow.
Basically, you've got two ways to use this site. First, if you've got an enviable patch of real estate to your name (your parking space doesn't count), you can list it for rental.
But probably you're going to use it to search for someone else's place where you can throw a party. The list is 100 strong and growing, and it's got places like this:
Downtown penthouses with roof decks, for your Super Bowl party, complete with post-victory smoking lounge.
An entire floor of the Stroga fitness studio in Adams Morgan.
Historic, neoclassical mansions with ornate gardens. (Yes, they're in the burbs, but then again, so was Gatsby's place.)
A carriage house on the grounds of the Mathematical Association of America.
Their square footage is eerily exact.