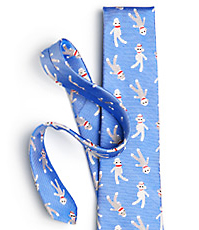 We're fans of the simple, debonair pleasures in life: a barbershop shave, wingtips, a classic beauty (possibly on a calendar of some kind)—and if they're all on a tie, so much the better.
Introducing
David Hart & Co.
, a tie maker with serious old-school chops and just the right amount of wit to get a few second looks.
At first glance, Hart's narrow-without-being-skinny cravats don't break too much from the traditional logo ties you're used to, so no one will suspect your secret life as a man about town—but look a little closer and you'll notice some charmingly anachronistic critters like robots, bowler hats, WWII-era pinup girls...and sock monkeys. (They're much more debonair in person.)
Look even closer and you'll see detail stitching as good as anything coming out of Hermes lately. Hart spent time at Tommy Hilfiger and Anna Sui on his way to his current post, so he knows how to turn a good fabric into a great tie. And since all the ties are hand-tailored in New York, you know it isn't all gimmick.
Not that we've got anything against a good piano-key necktie.