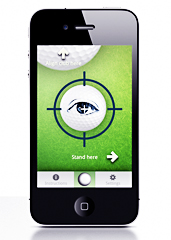 Look at it this weekend.
Seventy degrees. Sunny. Global warming at its finest.
Sort of makes you want to play golf.
And you know who agrees with you: your iPhone.
Behold
iOver Golf
, a camera-activated app that auto-corrects your putting by tracking your eyes, available now.
Golf apps. Perhaps you have one or two in your arsenal. And perhaps they do things like record your swing/find your ball/make you Arnold Palmers. And that's great, but you need something to help you consistently sink 35-foot putts. So here's that something.
You'll start by downloading the app. Then, on a slow Friday in the office (oh, hey, that's today), grab the putter you keep behind your desk, overturn a coffee mug and open this thing on your phone.
All you need to do: place it on the carpet/green about six inches to the side of your ball and look down. Now approach your phone like you're going to putt it (
like
you're going to putt it). When your eyes are lined up correctly for the shot, the app will signal you. Then, just keep your head still, slide over to the ball and swing.
Congratulations, you just broke golf.