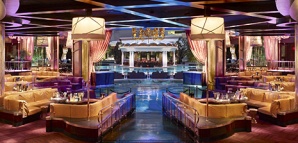 Sometimes you just want to party like it's 2008.

So while a certain unfortunate (but appropriate) modesty has taken hold over most of the country's nightlife, it's good to know that Vegas can still absolutely blow the doors off a club.

Welcome to the unchecked, hedonistic excess of...XS, the just-opened new megaclub at Encore, Steve Wynn's new pleasure tower (situated right next to the Wynn Las Vegas).

If you were having the slightest twinge of "maybe we'll take it a little easy in Vegas this time," it's time to remind yourself why you're in the middle of the desert. Wynn brought in nightlife legend Victor Drai (of famed late-night spot Drai's) to create 40,000 square feet of free-flowing booze, heat-seeking dancers and opulent, plush everything.

You'll want to start inside (yes, there's an outside—more on that later)—maybe with a little champagne—and soak in the gold body casts, 12 stripper poles (why not) and disco chandelier that surround you. At some point, make sure to find an appropriate escort, head outside through the sliding two-story glass doors, and situate yourself under a palm tree at one of the two poolside outdoor bars.

If you're feeling lucky (a given at this point), there's even an outdoor gambling pit for a few throws of the dice.

You didn't get dressed up for nothing.