Finland has been named the happiest country in the world for the sixth straight year.
That's according to the annual World Happiness Report, which ranks countries based on individual respondent's assessments of their wellbeing determined by six key factors, including freedom, healthy life expectancy, social support and generosity.
It's difficult to understand how any place that averages sub-freezing temperatures in winter can possibly be so happy, but that's all the more reason to find out.
To that end, Visit Finland is hosting an all-expenses-paid Masterclass of Happiness this summer to teach participants how to embrace their inner Finn.
Applications must be submitted by April 2, and the in-person seminar takes place June 12-15 at Kuru, a lakeside resort surrounded by lots of good-looking nature. You'll stay in a private villa with a spa and sauna and spend the week focused on rejuvenation and establishing healthy habits. And each day, you'll partake in expert-led sessions covering topics like food and wellbeing, health and balance, design, and nature and lifestyle.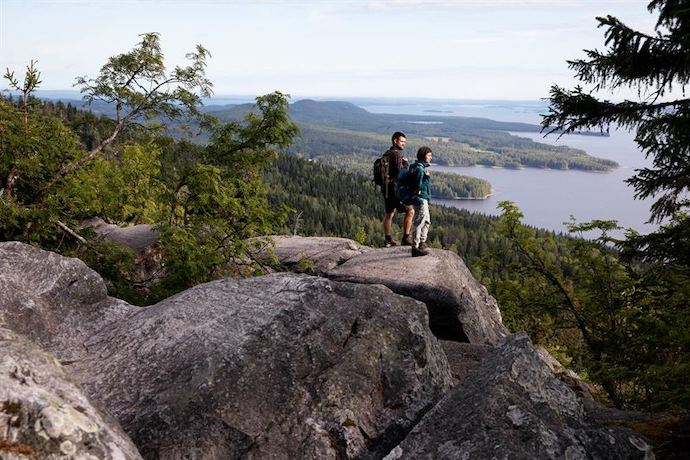 "A question we often get is: 'How are you so happy?' We believe Finnish happiness stems from a close relationship with nature and our down-to-earth lifestyle: it's not some mystical state, but a skill that can be learned and shared," said Heli Jimenez, the senior director of international marketing at Business Finland.
"Finland is full of immersive experiences amongst nature. Our energizing forests, charming lakes, and vibrant archipelago landscapes are all perfect places to relax, unwind and get in touch with your inner happiness. Now we want to help people find and master that Finnish state of mind. We've chosen the best coaches, one of the most breath-taking resorts in Finland, and a time in the early summer amid the beautiful Finnish nature for our masterclass. We feel it's a really unique opportunity to discover something wonderful and valuable: anyone curious should definitely apply."
To apply, you must sign up online and complete a social media challenge, which involves posting on Instagram or TikTok to share why you want to join the masterclass, and why you think you might be a Finn at heart.
Only 10 people will be chosen, so if you aren't able to secure a spot at the masterclass this June, don't fret: the sessions will also be released online later this summer.
But a free trip to Finland would do a lot more for your own personal happiness index.