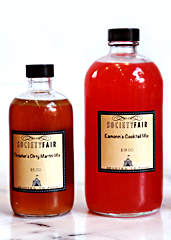 This holiday, there are those people you'd really like to buy a drink for.
Too bad they live across the country. This means you'll have to resort to a lot of dry ice and some potentially illegal subterfuge at the post office.
Or, failing that,
Todd Thrasher's Artisan Cocktail Mixes
, available now online and at Society Fair.
You're probably familiar with Thrasher's good works at places like PX and Virtue Feed & Grain. Does wonders with tonic. Makes bar syrups out of pinecones. Well, now he's bottled up some of his secret recipes for home applications. (Like drinking.)
If you're looking to unveil an enviable lineup of pre-turkey libations, you can just swing by Society Fair and grab a few bottles like a ginger beer base with ginger and jalapeños;
Eamonn's Cocktail Mix
, a concoction of yuzu and Irish red lemonade that begs for Irish whiskey; or a seasonal syrup like thyme-lime.
But for gifting purposes, if you think your friends across the country would like to know what tonic with lemongrass and lime tastes like, they'll box up all six of these and get them out on the next train.
And if you're not sure your friends will know what to do with them, Thrasher's also hawking his 10 favorite bartenders' tools, wrapped up in a leather case.
Also handy for making leather-infused cocktails.