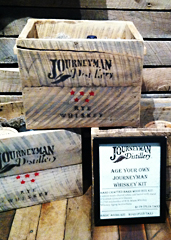 You know the old saying:
Give a man a fish, he eats for a day. Teach a man to barrel-age his own whiskey, and hey, six to eight weeks later... party time.
So behold the
Age Your Own Journeyman Whiskey Kit
, available now at Journeyman Distillery in Three Oaks, Michigan.
The breakdown here is simple. You'll drive up to this distillery 90 minutes outside of Chicago (it's what sick days were made for). Once there, pick up a box made from old barn wood. In it: two bottles of white lightning. Okay, they prefer to call it W.R., but it's simply their organic whiskey that's spent a mere 24 hours in a barrel made from Minnesota white oak. Also included: a mini version of that oak barrel for you to finish the job.
Next: you'll simply pour this clear whiskey into the tiny barrel today, and right around Thanksgiving, you'll be dispensing a rich, caramel-colored rye. (Actually, it's the same process Journeyman uses to make their premium Ravenswood Rye.)
But you're not done. You now have a whiskey-tinged barrel at your disposal. So we predict a barrel-aging frenzy. Maybe you have white rum in need of some extra complexity. Maybe it's a tequila blanco for your soon-to-be-famous whiskey-barrel margaritas. Or maybe it's simply water.
We hear whiskey-flavored water is the new Evian.