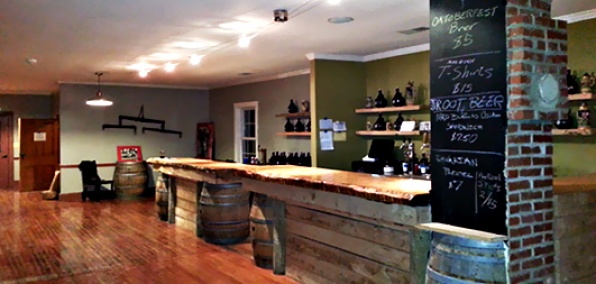 You always want what you can't have. Like when you spend a fall afternoon hopping from winery to winery... and then all you crave is a damn beer.

We're here to help. Just look for the old funeral home.

Presenting Mad Horse Brewery, a brand-new brewpub/tasting room, now open in Loudoun County's wine country.

Right, so this is located on an unlit rural road, and it used to be a funeral home. And no, you can't actually visit on Halloween; they're only open weekends for now.

But when you do visit, here's what you'll find: sort of a cross between an old-time saloon and a cozy barnyard. There's a bar made from rough-cut ash, reclaimed horse fencing and oak barrels; local horse art on the walls; and growlers and antique sausage grinders here and there.

You'll grab a table by either a) the fireplace, b) the band they've got playing that day or c) the big flat-screen. Then, you'll get going on their rotating beers made on-premises (like a dark Kölsch or an Oktoberfest) and the small menu (think brats and Bavarian pretzels).

You also might peek through the window and spot the fermentation tanks. Soon enough, you'll get a piece of that, when they start tours and training sessions for aspiring beer makers.

Better start working out.