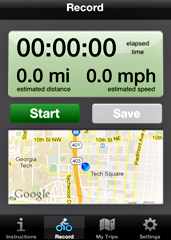 Attention guy who sky jumped from outer space:
Congratulations on, you know, not turning into a human fireball while crashing back to earth.
It must feel pretty good not spontaneously combusting in midair.
But probably not as good as it must feel to be the second most impressive feat in transportation this week.
Top honors: well, that goes to
Cycle Atlanta
, an Atlanta-specific app that tracks your bike routes in real time and records them for future reference, available now for iPhone and Android.
Okay, so you've probably seen similar fitness-mapping apps before. This one: basically MapMyRun, but for biking. Or more specifically, for street-biking around Atlanta (it was created by some local developers/bike shorts enthusiasts).
What you're going to want to do is download this, and when you decide to try a new shortcut on your ride to work, pull this up and press start. It'll record your route via GPS. Also, it'll show your time, distance and average speed. (Guinness is probably going to want this information, so it's a good thing to have handy.)
After you've reached your destination, you'll save the route, give it a name and then the next time you need to retrace your steps, use the app to access precise turn-by-turn directions for that path.
Great, now you can stop using bread crumbs.