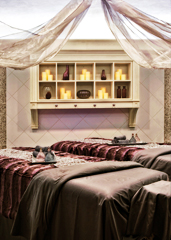 We've occasionally suggested where you might take a first date. This is not one of those times. In fact, you probably shouldn't even take a second date here.
You see, this involves roses, champagne and a hot tub. Oh, and you'll be completely alone, except for your dedicated team of masseuses and waiters.
And naturally, it all takes place very late at night.
Presenting
Night Spa
, in which the Four Seasons spa basically gives you the run of the place in the wee hours, taking reservations now for this Friday and beyond.
This is sort of like
Night at the Museum
. Only in a spa. With your girlfriend. And without Robin Williams.
You'll show up around 10pm. They'll give you some tea, get you into your monogrammed robes and lead you down to the pool, all done up with curtains, candles and two massage tables. Take your pick between two brand-new, 80-minute massages. Hold hands. Try to figure out whether that's rosewood or sandalwood you're smelling. (Actually, it's both. Also: candle wax.)
Then, waiters will emerge with
your order from the Michael Mina kitchen upstairs
—champagne, foie gras with cherries, crab Louie, maybe some chilled lobster.
And then... they're gone, leaving you to your own devices in the pool and jacuzzi until 1:30am.
Otherwise known as last call for massages.