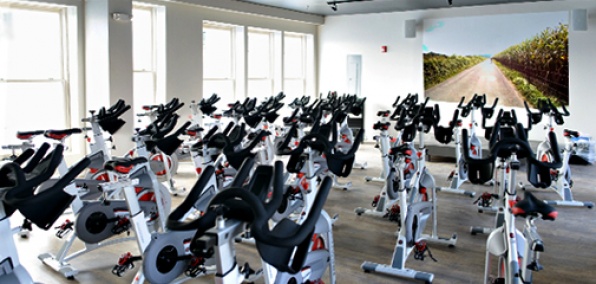 The biggest drawback to working out in a gym: well, you're in a gym. And nothing we're going to tell you today will change that.

Of course, you can still dream a bit, like you're pedaling up a tropical vista in Hawaii.

Here to help: a 10-foot HD video screen. Showing the Hawaiian vista that you're pedaling through.

Say hello to Off Road Indoor Cycling, opening October 15 to bring a little virtual reality to your workout.

If your gym suddenly merged with the Travel Channel, it might look something like this—HD video that works along with your instructor to simulate, say, a trip up the switchbacks of a Colorado mountain biking course, or better yet, stage 12 of the Tour de France.

Not all the time, mind you. You'll still be able to go in here and get a conventional spin workout—the burning quads, the Kanye on the stereo, etc. They've also got boxing classes, boot camp and TRX (otherwise known as "handles hanging from the ceiling").

But you'll want to keep an eye on their schedule. On November 9, for instance, they host the world premiere of a virtual ride around Kauai. Other times, they're planning on hosting endurance rides while classic movies play on the screen.

Lawrence of Arabia = more endurance.